Churma is a Rajasthani delicacy made from ground deep fried wheat flour dumplings mixed with sugar. Churma is popularly enjoyed with a traditional Rajasthani meal of Dal & Baati and provides great contrast with its sweet flavor to the whole dish.
It is a sweet dish made by coarsely grinding deep fried whole wheat flour dumplings along with sugar. It has a slightly coarse texture and emits the mouthwatering aroma of whole wheat flour roasted in desi ghee.
You can enjoy churma in its original powdered form, or you can shape it into balls to make Churma Ladoos.
Churma can be made very quickly and in any household given that it is made from whole wheat flour and doesn't need any other special ingredients. Optionally, dry fruits like almonds and cashews can also be added to enhance the flavor of this dish.
You will find churma in the menu of many restaurants in Rajasthan separately, or as part of dal, bati meal. It is a quintessential part of a Rajasthani thali and any trip to Rajasthan is not complete without getting a taste of this dish.
This is a dish that people from all age groups thoroughly enjoy. You can make it in larger batches and store it in an airtight container for a few days.
To make Churma at home follow the detailed step by step recipe with photos posted below.
See more related recipes like:
Suggested recipe collections :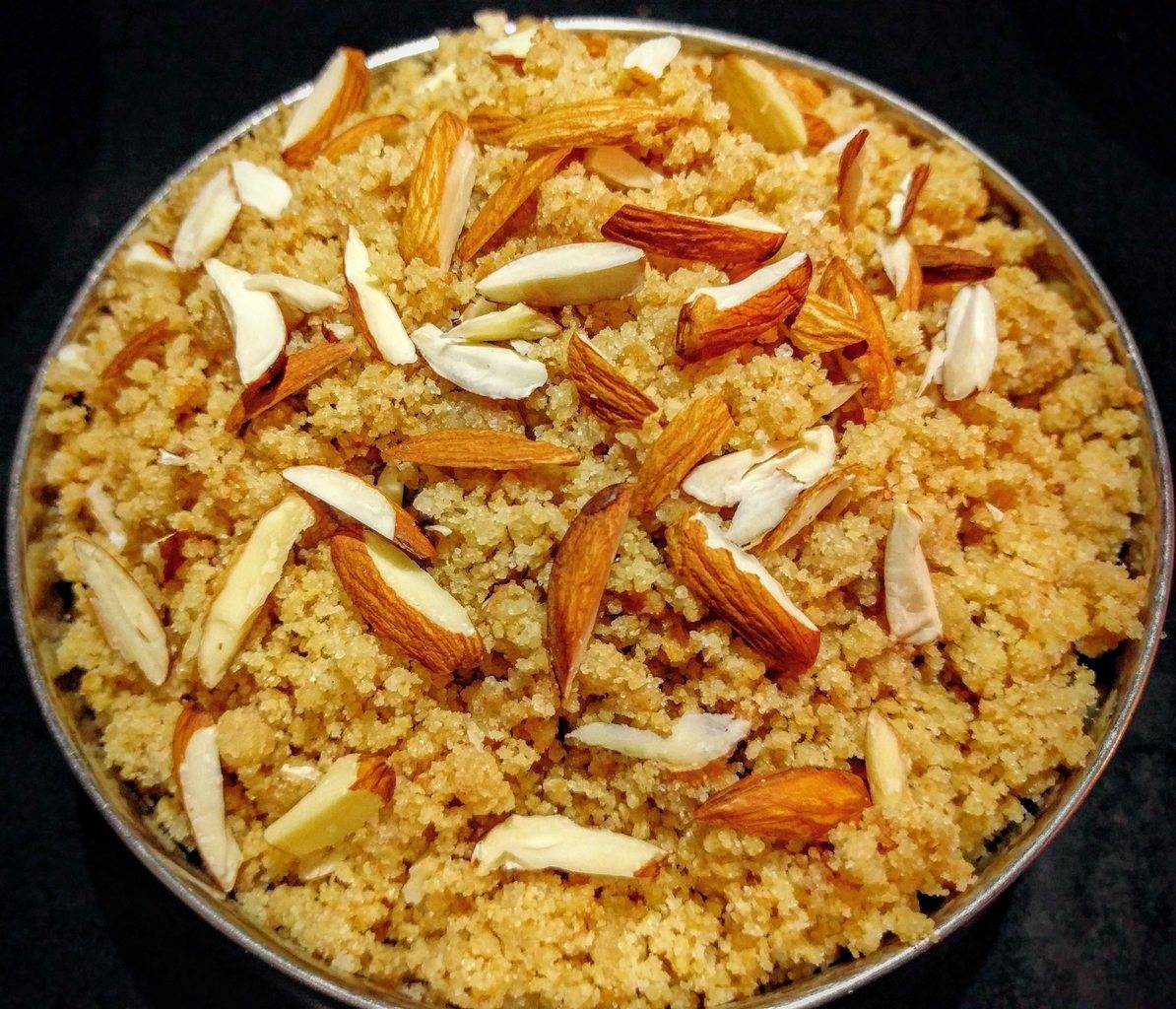 Churma Recipe
A sweet Rajasthani delicacy made from ground deep fried wheat flour dumplings mixed with sugar. Churma is popularly enjoyed with Dal & Baati.
Recipe Info
Ingredients For Churma Recipe
2

Cups

Whole Wheat Flour (Gehun ka Atta)

3/4

Cups

Desi Ghee

3/4

Cup

Sugar

1/2

Cup

Almonds (Baadam)

1/2

Cup

Cashew Nuts (Kaju)

2

Cup

Desi Ghee

for frying
Step By Step Instructions for Churma Recipe
Take gehun ka atta or whole wheat flour in a wide vessel.

2 Cups Whole Wheat Flour (Gehun ka Atta)

Add the desi ghee to the flour.

Mix thoroughly to coat the flour with ghee.

Add 1 cup water to the mixture and knead the mixture into a tight dough. You can also add milk instead of the water.

Divide the dough into small equal balls (around the size of a tennis ball) and press them to into the shape of your fist.

Heat desi ghee in a pan for frying. Add the dumplings to the pan. The ghee should not be too hot, otherwise they will not cook properly from inside.

Fry them in batches on low-medium heat setting for about 10-15 minutes till they turn golden brown.

When the dumplings are cooked, take them out and drain the excess ghee on kitchen rolls.

Break them into small pieces and set aside to let them cool for 10 minutes.

Grind all the pieces into a fine powder in a food processor.

Then add the sugar and mix well.

You can also add chopped dry fruits like almonds and cashews to the mixture. Churma is ready.
Before You Go...
Don't forget to Pin this post to save it for later. You can also Subscribe to our mailing list or follow us on Facebook, Pinterest, Instagram or Twitter to see more delicious food recipes.
We'd love to know your thoughts about this dish! Please leave a comment or share a picture on Facebook or Instagram with the hashtag #vegecravings.