This simple Eggless Chocolate Cake recipe uses everyday ingredients and makes a deliciously moist and soft cake without eggs.
Chocolate cakes are everyone's favorites. Whether you don't eat eggs, or just ran out of them at home, you can whip up a delicious chocolate cake in a jiffy using this simple recipe.
A freshly baked, soft and spongy eggless chocolate cake layered with a chocolate ganache, is a perfect way to satisfy even the most intense chocolate cravings.
Substitutions for egg
Egg is considered to be an essential ingredient in cakes since it is a good binding and leavening agent. This recipe makes use of condensed milk and coke to replace eggs.
Condensed milk is a good binding agent and in combination with coke, baking powder & baking soda, it results in a soft, creamy, moist and spongy chocolate cake without using any eggs.
Both condensed milk and coke also contain sugar so there is no need to add any extra sugar to this recipe. Coke also gives a great color to the cake.
Tips for making a good cake
Keep your baking tray prepared before making the cake batter. It's best for the batter to go in the oven as soon as you add the coke and baking soda to preserve the effervescence.
Test that the baking powder & baking soda are still active. To test the baking soda pour a spoonful of vinegar and lemon juice on it. If the baking soda froths then it's still active. For baking powder you can pour hot water for the same test.
Alternate ways of cooking the cake
If you do not have an oven at home, you can also make the cake in a microwave. Pour the batter in a microwave safe dish and cook for the 7-8 mins.
The cake can also be made in a pressure cooker. Layer some salt at the bottom of a pressure cooker, then place a steel stand at the bottom. Place the cake batter in a tin on this stand. Remove the gasket and whistle and cook on low heat for 40 mins.
Layering, topping and serving
You can use the recipe to make a single layered cake or have multiple layers. You can cut off the top portion of the cake to make it even, however the cake does not bulge too much so it is not necessary.
I have topped the cake with a chocolate ganache but you can use chocolate frosting, buttercream or any other topping of your choice. The cake can also be eaten as is.
It can be decorated with frosting, shaved chocolate, dry fruits, grated coconut or fresh fruits. You can also add dry fruits like almonds or pistachios in the batter to make the cake crunchier.
If properly stored in a cool place, this cake can last for 2 to 3 days at room temperature. It can be kept in the refrigerator for up to a week.
To make eggless chocolate cake at home, follow the detailed step by step recipe with photos posted below.
See more related recipes like: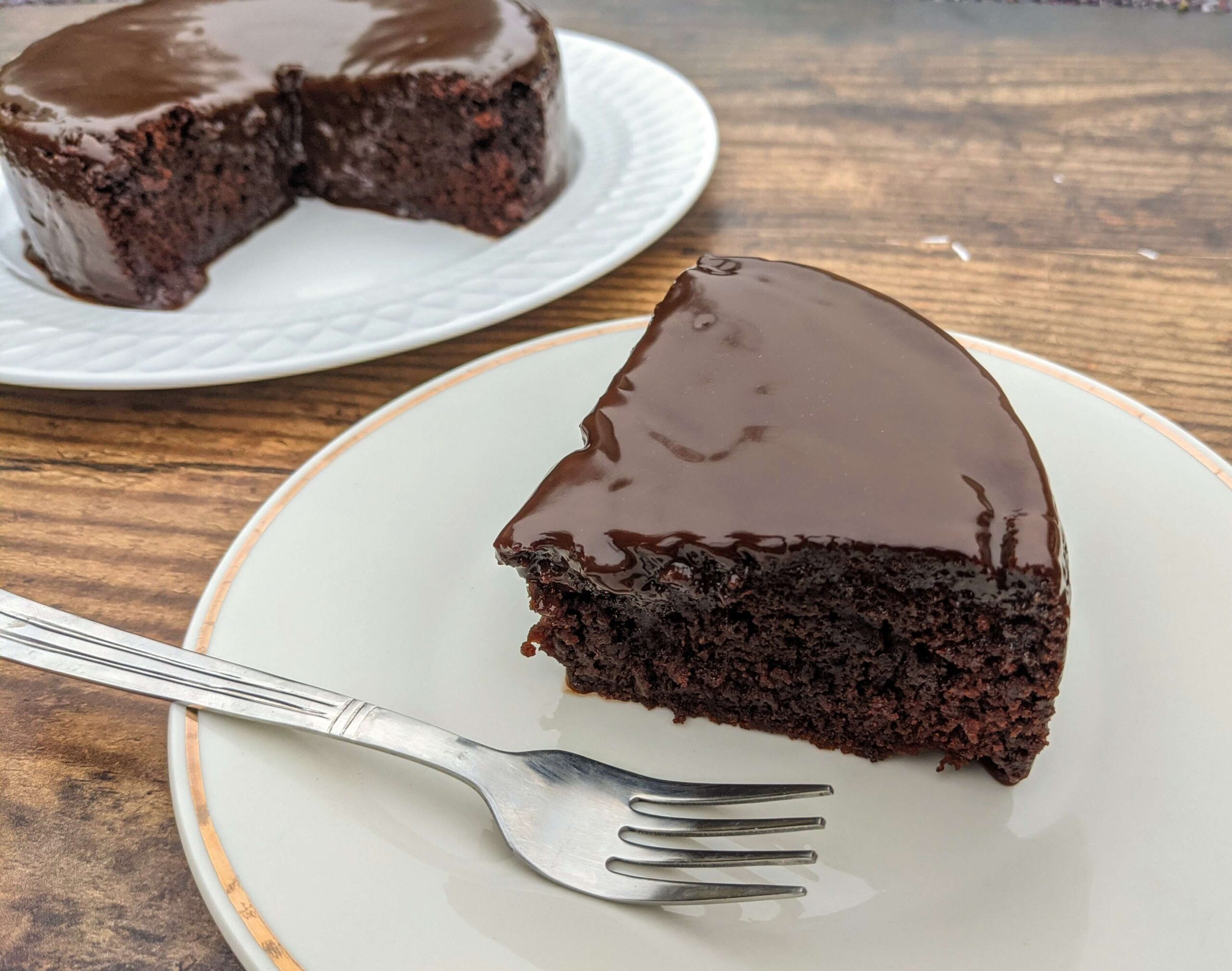 Eggless Chocolate Cake Recipe
Eggless chocolate cake recipe for making soft, moist and delicious cake with condensed milk and coke, without using any eggs.
Recipe Info
Nutrition
Calories:
391
kcal
|
Carbohydrates:
47
g
|
Protein:
7
g
|
Fat:
21
g
Ingredients For Eggless Chocolate Cake Recipe
For the cake
1

Cup

Plain Flour (Maida)

5

Tablespoons

Cocoa Powder

1

Teaspoon

Baking Powder

1

Teaspoon

Baking Soda

100

gm

Melted Butter (1 Stick or 1/2 Cup)

400

gm

Condensed Milk (1 Can)

250

ml

Coke (1 Cup or 1 Can)

1

Teaspoon

Vanilla Extract

1/4

Teaspoon

Salt

skip if using salted butter
For the chocolate ganache
1/2

Cup

Heavy Whipping Cream

3/4

Cup

Chocolate Chips
Step By Step Instructions for Eggless Chocolate Cake Recipe
Preheat the oven to 180 C or 350 F. Line a baking tray with parchment paper. Brush with melted butter and sprinkle a little bit of flour on it.

Take melted butter in a mixing bowl. The butter shouldn't be too hot. You can use salted or unsalted butter depending on availability.

100 gm Melted Butter (1 Stick or 1/2 Cup)

Add condensed milk to the butter.

400 gm Condensed Milk (1 Can)

Whisk together to thoroughly mix the butter and condensed milk, then set aside.

Start to sieve the plain flour (maida) in a separate mixing bowl.

1 Cup Plain Flour (Maida)

Also add cocoa powder to the sieve.

5 Tablespoons Cocoa Powder

Finally add baking powder, baking soda. Also add salt if using unsalted butter. I have skipped adding the salt since I'm using salted butter.

1 Teaspoon Baking Powder,

1 Teaspoon Baking Soda

Sieve all the dry ingredients in the mixing bowl.

Then add the wet mixture of butter and condensed milk to the mixing bowl and combine together.

Add coke to the mixture in small increments as you start mixing the ingredients together. Also add vanilla extract.

250 ml Coke (1 Cup or 1 Can),

1 Teaspoon Vanilla Extract

Stir together to make a smooth batter without any lumps.

Pour the batter in the prepared baking tray.

Place the baking tray in the oven and bake for roughly 40 mins or till a toothpick comes out clean.

Remove the tray from the oven then let the cake cool down for 10 minutes before taking the cake out of the tray.

In the meantime to prepare the chocolate ganache, add chocolate chips in a mixing bowl.

Boil the heavy whipping cream in a microwave or stovetop and pour it on top of the chocolate chips.

1/2 Cup Heavy Whipping Cream

Mix the ingredients together as the chocolate starts to melt to make a smooth sauce.

Pour the chocolate ganache over the cake to cover it completely.

Eggless chocolate cake is ready. Serve immediately or store for later use.
Before You Go...
Don't forget to Pin this post to save it for later. You can also Subscribe to our mailing list or follow us on Facebook, Pinterest, Instagram or Twitter to see more delicious food recipes.
We'd love to know your thoughts about this dish! Please leave a comment or share a picture on Facebook or Instagram with the hashtag #vegecravings.