Aloo Chaat is a spicy and tangy dish made of crispy fried potatoes tossed in spices along with sweet and tangy sauces.
The snack 'chaat' derives its name from the Hindi word चाट (tasting a delicacy) or from the word चाटना (to lick) which implies that the snack is so tasty that one wants to lick or eat even the leftover in the plate or bowl.
The sweet spicy and tangy aloo chaat is one of the most popular street food in India. The bylanes of old cities like Delhi are famous for special savory aloo chaat.
Aloo chaat is a favourite and quick snack especially when one is craving for something spicy, flavourful and tangy.
Main ingredients of aloo chaat
Aloo chaat recipe has shallow fried crispy potatoes which are then topped with masalas, salt, spices along with tamarind and coriander chutney. It is many times garnished with fresh coriander leaves and optionally fresh cut round onion pieces can be added too.
One of the key ingredients in this recipe is the chaat masala which is a mix of different spices like mango powder, cumin, ginger etc. Roasted cumin powder and dried mint powder also impart a fresh and mouthwatering flavor to this dish.
Different methods of preparation
Many varieties of aloo chaat are popular in India in different regions. Some use boiled potatoes, while others also add channa (chickpeas) to the chaat. This recipe which is popular in North India uses raw potato pieces which are then shallow fried.
People who are conscious about their weight, can enjoy this snack by baking or air frying the potatoes instead of deep frying them for a lower calorie version.
To make aloo chaat at home, follow the detailed step by step recipe with photos posted below.
See more related recipes like:
Suggested recipe collections :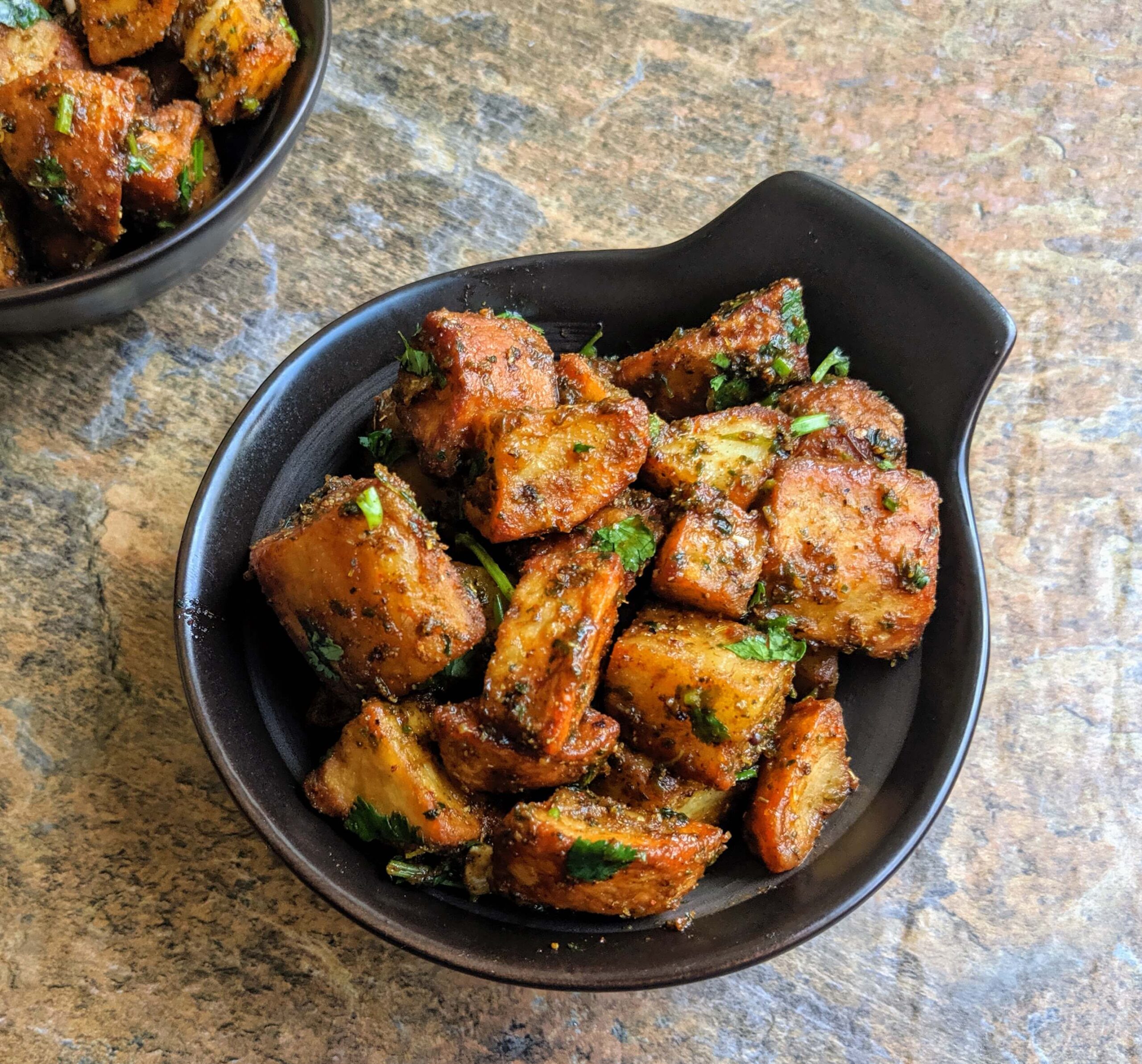 Aloo Chaat Recipe | Delhi Wali Aloo Chat
Aloo Chaat is a spicy and tangy Indian street food made of crispy fried potatoes tossed in spices along with sweet and tangy sauces.
Nutrition
Calories:
350
kcal
|
Carbohydrates:
41
g
|
Protein:
9
g
|
Fat:
17
g
Ingredients For Aloo Chaat Recipe | Delhi Wali Aloo Chat
Step By Step Instructions for Aloo Chaat Recipe | Delhi Wali Aloo Chat
Peel and wash the potatoes and then dice them into medium sized cubes. Heat some oil on medium flame in a pan and add potato pieces to it.

Now shallow fry these Potatoes. To ensure even frying on all sides, keep flipping / turning the potatoes in between.

Lower the flame and continue to shallow fry until the potato pieces turn light golden brown. Remove the potatoes from the pan and place them in a large mixing bowl.

Add roasted cumin powder, red chili powder, chaat masala, mint powder and salt (as per taste) to the sauteed potatoes.

1 Teaspoon Roasted Cumin Powder (Jeera),

1 Teaspoon Red Chilli Powder,

1 Teaspoon Chaat Masala,

1/2 Teaspoon Mint Powder

Next add the green chutney and tamarind chutney to these ingredients.

2 Teaspoons Tamarind Chutney (Imli Ki Chutney),

2 Teaspoons Green Mint Coriander Chutney

Toss and mix all the ingredients very well, so that the salt, masala, spices and chutney gets coated and absorbed on fried potatoes.

Mix well and garnish with fresh coriander leaves.

Transfer the aloo chaat to a serving bowl. Savoury, tangy and lip smacking aloo chaat is ready.
Before You Go...
Don't forget to Pin this post to save it for later. You can also Subscribe to our mailing list or follow us on Facebook, Pinterest, Instagram or Twitter to see more delicious food recipes.
We'd love to know your thoughts about this dish! Please leave a comment or share a picture on Facebook or Instagram with the hashtag #vegecravings.